The Noise is a man unfiltered, and without a filter
A Man is just chaos walking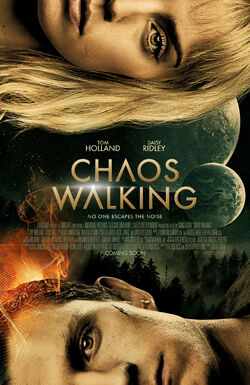 Chaos Walking is the story of world with no women where all living creatures are telepathic, sensitive to a stream of images, words and sounds called Noise -- a force that puts all their thoughts on display.
Set in the not-too-distant future, Todd Hewitt discovers Viola Eade, a mysterious girl who crash lands on his planet, and as Todd vows to protect her, he will have to discover his own inner power and unlock the planet's dark secrets.
Based on a series of novels by Patrick Ness, the 2021 film stars Daisy Ridley, Tom Holland and Mads Mikkelsen. Its screenplay is written by Charlie Kaufman, Lindsey Beer, John Lee Hancock, Gary Spinelli and Ness himself. Doug Liman directs the BRON Creative/Quadrant Pictures release.
The March 2021 film is a Lionsgate property.
The prose that started it all
The core of the Chaos Walking series is a collection of three novels and three shorter novellas by author Patrick Ness.
About Us
We're a community run and maintained by people just like you! Created by fans, for fans, the Chaos Walking Wiki is dedicated to creating a comprehensive and informative resource about both the books and the 2021 movie!
We also have a place for getting to know each other and to talk about Chaos Walking in our Discussions. Whether you are here to start editing or to chat with fellow users, you are welcome to sign up for an account!