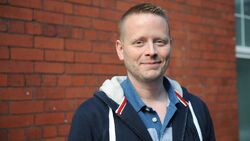 Patrick Ness (born October 17, 1971) is a British-American author, journalist and lecturer who currently lives in London. He holds both American and British citizenships, having the British since 2005.
Patrick Ness was born on Fort Belvoir army base, near Alexandria, Virginia in the United States where his father was a drill sergeant in the US Army. He then moved to Hawaii where he lived until he was six, then spent the next ten years in Washington State before moving to Los Angeles where he studied English Literature at the University of Southern California.
After graduating he worked as corporate writer for a cable company. He published his first story in Genre magazine in 1997 and was working on his first novel when he moved to London in 1999. Since then he has published four novels. The Knife of Never Letting Go, his first novel for children, won numerous awards, including the Booktrust Teenage Prize, the Guardian Award, and the 2008 James Tiptree, Jr. Award. It is shortlisted for the 2009 Carnegie Medal. In January 2010 he won the 2009 Costa Book Award for the category children's book for The Ask and the Answer.
He taught creative writing at Oxford University and has written and reviewed for The Daily Telegraph, The Times Literary Supplement, The Sunday Telegraph and The Guardian. He currently reviews for The Guardian.
He has been a Fellow of the Royal Literary Fund and is currently first Writer in Residence for the Booktrust.
The Crash of Hennington (Flamingo, 2003)
The Crane Wife (2013)
"The New World" (2009)
"The Wide, Wide Sea" (2013)
"Snowscape" (2013)
Doctor Who: Tip of the Tongue (2013)
"This Whole Demoning Thing", Monstrous Affections, ed. Kelly Link and Gavin J. Grant (2014)
Topics About Which I Know Nothing (HarperPerennial, 2005)
A Monster Calls (2016) (writer and executive producer)
Class (2016) (writer, creator and executive producer)
Community content is available under
CC-BY-SA
unless otherwise noted.